So it was Teen Movie night again over on
TCM
. This time it was 80's movies!
Some of my absolute favorites were featured too!
First:
source
This movie is funny. The ditzy mom, the weird little brother, the kid that wants his 2 dollars! Just to name a few. Plus there's the adorable John Cusack!
Next up was Sixteen Candles:
source
This was my first teen movie. So it I hold it in a special place. I can recite the lines backward
and forward in my sleep. And I <3 Jake Ryan. My first crush!
Last but not least Ferris Bueller's Day Off: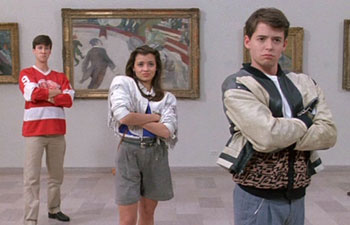 source
I think this movie gave me some incite on skipping school :) Cameron is adorable even
through his hypochrondria. And of course Ferris himself is hard to resist with his charm and
the need for a day off.
So that was movie night. If you want a little escape and fun definitely watch Better off Dead or Ferris!
Hope everyone has a Wonderful Weekend! Try and stay cool out there!
See ya Monday!
xoxo
Alicia